Special offer - Koi Fish Three-dimensional Memo Pad Collector's Edition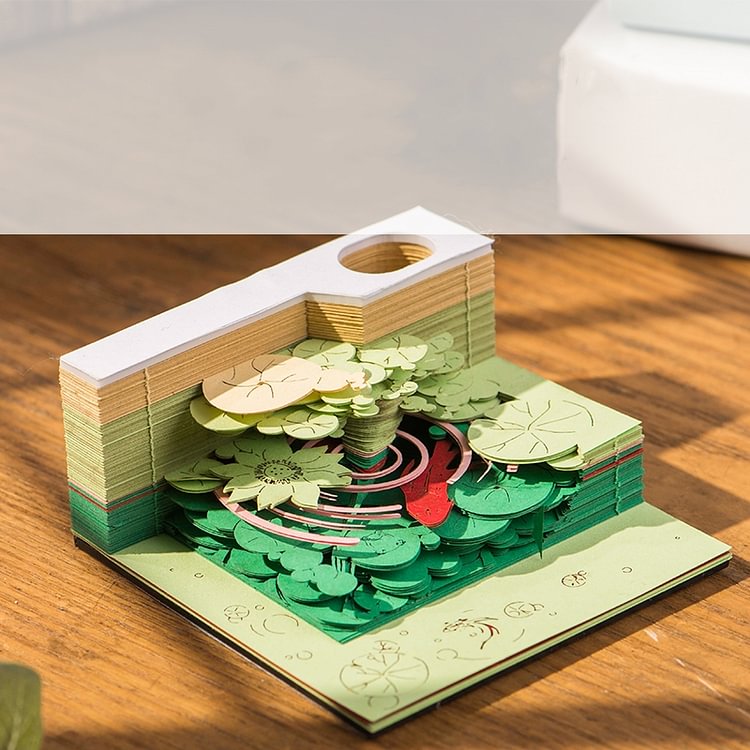 Special offer - Koi Fish Three-dimensional Memo Pad Collector's Edition
Beautiful Lotus Ponds Decorate Around Koi Fish!
When the notes are torn off, the model of the building is vividly displayed in front of you
FEATURE
Creative Art Design: Memo Pads are overlapped with fine papers, and you can enjoy the course of removing them. After removing the all paper notes, an amazing art building a model will turn out.
2-In-1 Design: More than just a sticky note, it is an art deco, perfect for decorating your room. Experience the process of tearing out the beautiful tree house. The little note is a delicate piece of art that is perfect for a desk or shelf.
Expectations and surprise: The most exciting thing is that the everyday common is full of unknown miracles.
Easy to use: These small sticky notes are easy and convenient to use and peel, leaving no residue.
Creative design, At first glance it is an ordinary Memo Book, but there are an amazing design hidden inside it. It is not only a piece of paper, but also a beautiful paper three-dimensional model. When you use it, the art work will gradually appear from the inside, Unique and beautiful.
SPECIFICATION
Material: Specialty Paper (No stickiness)
Style: 3D Architecture
Size: 8 * 8 * 3.5 cm
Page: About 65-160 sheets
Hogwarts Castle Three-dimensional Model Collector's Edition
Variety of styles: Ordinary Memo Block turn out to a amazing art building.Shape of different kinds,House,Empire State Building, Eiffel Tower,Tokyo Tower,The Great Wall,Supreme Harmony Hall ,Corner building,Royal Temple,University,Potala Palace, Nest of Love,Pavilion,Rest House,Harbor,Attic,Sydney Opera House, LOVE, Piano, Violin,Christmas series house,Castle, Ring ect.You can choose the one you like,so special for your decoration,unique and beautiful.Some come with Upgraded packaging box,pens.